Young's Payless IGA
Recipes
https://www.youngspaylessiga.com/Recipes/Detail/5478/Fresh_Broccoli_Salad_with_Almonds_and_Raisins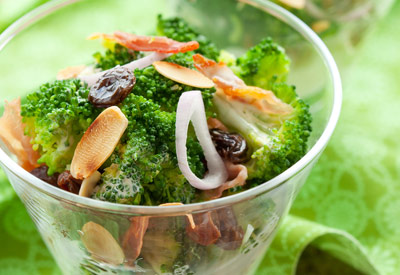 Fresh Broccoli Salad with Almonds and Raisins
Yield: 6 servings
Ingredients
4
cups

fresh broccoli florets

1/4
cup

red onion, coarsely chopped

3
Tablespoons

sliced almonds, toasted

3
Tablespoons

raisins

4
slices

cooked bacon, broken into pieces

2
Tablespoons

granulated sugar

2
Tablespoons

cider vinegar

2
Tablespoons

mayonnaise
Directions:
Add broccoli, onion, toasted almonds, raisins and cooked bacon to a large mixing bowl.

In medium mixing bowl combine sugar, vinegar and mayonnaise; mix well. Pour over broccoli and other ingredients and toss to coat.

Chill for 1 hour to blend flavors. Divide into six individual serving dishes and serve immediately.



Please note that some ingredients and brands may not be available in every store.
Young's Payless IGA
Recipes
https://www.youngspaylessiga.com/Recipes/Detail/5478/Fresh_Broccoli_Salad_with_Almonds_and_Raisins